We not only book media for our clients, we also have a team who look after unaccredited businesses and creative agencies.
This allows smaller agencies who require the administrative assistance to process their bookings and access our network for their clients.
We offer a simple, straightforward commission structure and can invoice either yourself or your client direct.
Get in touch and let's see what we can do together.
Gail is a dynamo and someone you can truly rely on to have your back. Any queries are attended to promptly and while we receive a full schedule of due dates for advertising we also get regular timely reminders when content is due which is a huge help in a very busy office.  Nothing is too much trouble and Gail's manner is always friendly, sincere, professional and courteous – even when I'm dragging the chain or changing my mind!
Wendy Johnston
I am so grateful for the team at Proud Media.
They make my life easy!
The girls have excellent attention to details and are a pleasure to work with.
Kellie Hobbs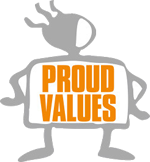 We pride ourselves on providing the best Pain Free service to our customers and adhering to the following values in all of our endeavours:
Professionalism
Accountable
Integrity
No Surprises
Friendly & Approachable
Responsive
Exceed Expectations
Easy
….P.A.I.N.F.R.E.E!